Staff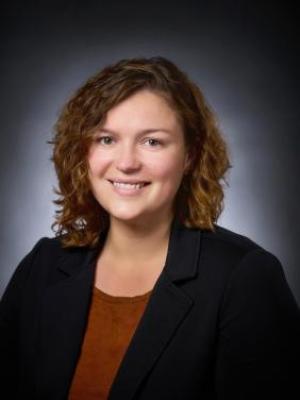 Julie Heaton
Julie Heaton is Director of the Penn State Sokolov-Miller Family Financial and Life Skills Center. She holds a Bachelor of Arts in Religious Studies from the College of William & Mary, VA, a Master of Public Administration, and a Graduate Certificate in Public Health Administration from the University of Montana. She began her work in financial wellness while working for a violence prevention non-profit in North Carolina. Helping survivors rebuild their lives, she observed how financial knowledge can self-empower and improve wellbeing for individuals. Since then, her work and research has focused on how to make financial education accessible, affordable, and inclusive for all learners. Before coming to Penn State, Julie taught personal finance at the University of Montana and served as Director of the University of Montana's Financial Education Program. Julie is committed to putting student success at the center of her work and hopes to share with Penn State the strength that can be achieved through financial fitness.
Money Question for Julie: Do you find saving money difficult? Why or why not?
"Yes! Saving money has always felt like a challenge, but the reason it is difficult has changed for me over the years. When I was an undergraduate, my expenses and needs were fairly simple. Saving was a chore because I made little income and simultaneously had big travel dreams and desires that would quickly drain whatever I was able to save. Now, I'm more frugal and have a stable income, but the cost of life expenses and my desire for security is higher (e.g. mortgage, insurance, childcare, healthcare). So, saving is still something I have to be very intentional about."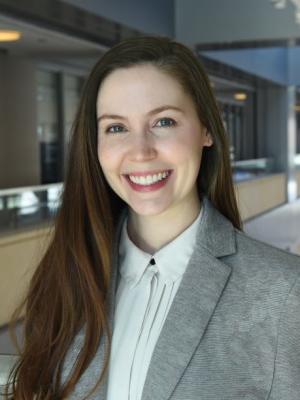 Sarah DeWolfe
Sarah DeWolfe is an Education Program Specialist of the Penn State Sokolov-Miller Family Financial & Life Skills Center. She grew up in the Chicago suburbs and holds a Bachelor of Science in Zoology and a Master's in Social Work from Southern Illinois University Carbondale.  Sarah liaises with the Commonwealth campuses to promote the Center's programs and services across the University; meets with students one on one to coach them in their financial journeys; and oversees the Financial and Life Skills Mentoring Program. Sarah is dedicated to helping Penn State students understand that financial literacy, while an integral part of well-being and success, is a lifelong adventure which requires acquiring knowledge and skills that will inform positive financial behaviors. With this in mind, she approaches financial coaching sessions from the viewpoint that personal finance is inherently holistic in nature.
Money Question for Sarah: What's something you spent/spend a lot of money on?
"FOOD! And not grocery food.  I LOVE eating out: fast food, sit-down restaurants, movie-theater hotdogs, baseball-stadium hotdogs, Sam's Club hotdogs...I digress.  I don't mind cooking, but it takes time and often feels like the 7 minutes I spend eating what took me over an hour to cook isn't worth it. I grew up poor, so when I was in college, I'd spend $3 here, $5 there on fast food because it was cheap, and I only had like $10 in my account at all times. The first time I sat down to budget, I found out I was spending over $400 a month on my "cheap" food!  So I got in the habit of giving myself eat-out money in my budget that I can track so I actually KNOW how much I'm spending, which is usually the same amount or more than I give myself for groceries. And that's ok."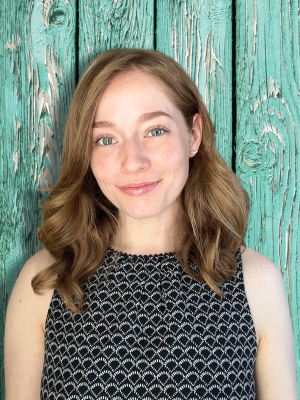 Sarah E. Metzger
Sarah Metzger is an Education Program Specialist of the Penn State Sokolov-Miller Family Financial & Life Skills Center. She is a native of Chicagoland and holds a B.A. in Secondary Education from DePaul University and an M.A. in Educational Leadership from Northeastern Illinois University. Sarah has over a decade of experience teaching learners in secondary, post-secondary, and professional settings. She specializes in instructional design and delivery, support for learners, and educational technology. As lead presenter, Sarah oversees the workshop and first-year seminar programs and currently hosts the bimonthly MoneyCounts webinar series. She is committed to helping Penn State students meet their financial and academic goals through customized, authentic learning experiences. 
Money Question for Sarah:  Love or Money? 
"Many well-intentioned relatives have advised me to 'marry for money and love will come later.' As it happens, I've found the opposite to be true, and I always assumed their advice was given in jest anyway. It's true that a partner with money and power can enable us to reach our dreams, but if marrying someone we don't love leads to low relationship satisfaction and negative emotions, is it really worth it? I say, 'find yourself someone you love and let your positive emotions drive you to create wealth together.'"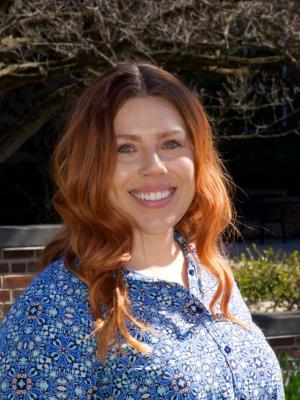 Allie Smith
Allie Smith is an Education Program Specialist of the Penn State Sokolov-Miller Family Financial & Life Skills Center. Originally from Central Pennsylvania, she earned her B.S. from Clarion University of Pennsylvania in Finance and Human Resource Management. She also holds a Graduate Certificate in Organization Development & Change from Penn State's World Campus. Allie oversees the Center's one-on-one financial coaching program and hosts the MoneyCounts webinar series. Allie is passionate about empowering students to lead positive and less stressful lives through the implementation of good financial habits. Outside of work, Allie spends her time playing and coaching tennis and enjoying outdoor activities like camping and hiking.
Money Question for Allie: Why do you work in financial wellness?
"When I initially stepped into the role of a financial educator, I realized that despite studying finance in college, I lacked personal financial literacy. As I trained for the job, I came to recognize the importance of budgeting, saving, investing, and living below my means. I worked on changing my mindset from being a "spender" to a "saver".  Embracing these principles transformed my life, enabling me to prioritize spending on things that truly matter to me while letting go of unnecessary expenses like impulse clothing purchases, dining out excessively, and frivolous indulgences like nail appointments. I noticed that having control over my own financial situation was a big stress reducer.  Having undergone this journey myself years ago, my experience has been reinforced through those that I've worked with: I've witnessed firsthand, time and time again, how implementing sound financial practices like budgeting, saving, and paying down debt reduces the daily stress people face and empowers them to live more joyful lives. I love that I'm able to be a part of this journey for people, helping those I meet with achieve financial wellness and take control of their lives through their personal finances."
Arintha Gillen
Arintha Gillen is the Administrative Support Assistant for the Sokolov-Miller Family Financial and Life Skills Center. She provides general office support, oversees purchasing and reconciles the office budget. She is originally from Clearfield, PA and earned her Practical Nursing diploma from the Clearfield County Career and Technology Center. She started at Penn State as part of the Contact Tracing team in 2020. Prior to Penn State she was a home health nurse. Arintha understands how important financial literacy is to our well-being and health. She is excited to join a team that is passionate about helping the Penn State Community understand financial literacy.
Money Question for Arintha: What advice would you give to someone at the beginning of their financial wellness journey?
Working in the healthcare industry has made me realize what an impact your finances can have on your well-being. My advice would be, take the time to really understand what financial literacy is. Be intentional in your money decisions. Sometimes small, intentional steps are worth the journey. I would also say it's never too late to start on the path to financial wellness.
Graduate Assistants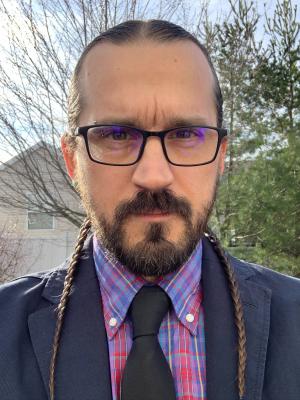 Eric J. Hunting
Eric J. Hunting is the Graduate Assistant for  the Sokolov-Miller Financial & Life Skills Center. He is an Odawa native and 4th year doctoral student at Penn State University. He is completing a degree in Lifelong Learning and Adult Education with graduate minors in Latina/o Studies and Comparative & International Education. His doctoral work examines learning and decoloniality in the context of Latina/o punk music. He aims to explore how the intersections of Latina/o punk music and urban soundscapes challenge how we learn and where learning occurs. He is the author of a critical reflection to be published in Río Bravo: Journal of the Borderlands, which explores the work of María Lugones as an Odawa native and the idea of complicating space as an act of decoloniality. 

Money question for Eric: Hold up, you're a punk scholar? Why do you work in financial wellness?
"Yes! I get asked this question quite a bit. When I began working for Center, I knew very little about financial literacy and I honestly was not sure if I would stick around in my role for long. As I learned more about the core concepts of financial literacy, what the Center provides to the Penn State community, and how much I can help individuals on their financial journeys, I knew this would be a great space to work in. And I was right!  Everyday I learn something different that shapes my understanding of financial health and how I think about money. While financial wellness is not related to my academic interests, it has given me a valuable skill set to navigate many of life's financial decisions and to speak confidently to others about money."
Student Ambassadors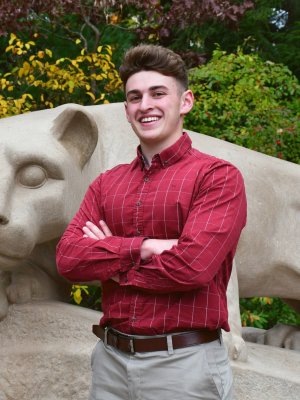 Jaiden Asch
Smeal College of Business, Finance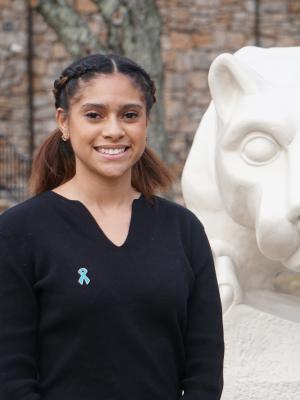 Yokaira Concepcion
Penn State Hazleton, University College, Criminal Justice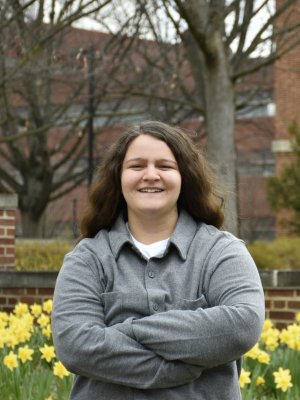 Holly Deemer
Smeal College of Business, Marketing (BS), Broadcast Journalism (BA), minor in Information Systems Management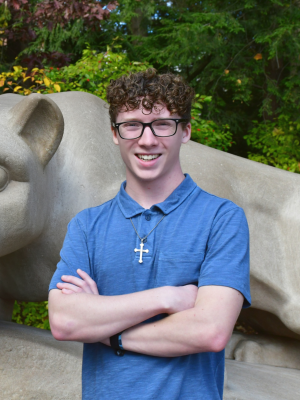 Nick Hotalen
Eberly College of Science, Mathematics (Systems Analysis Option); College of the Liberal Arts, Economics; Business and the Liberal Arts Minor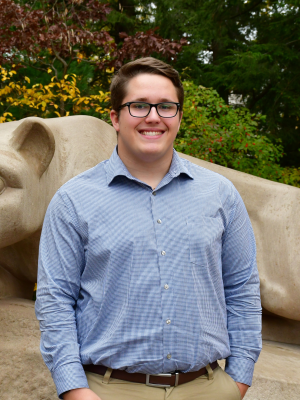 Aidan Kamowski
Smeal College of Business, Supply Chain and Information Systems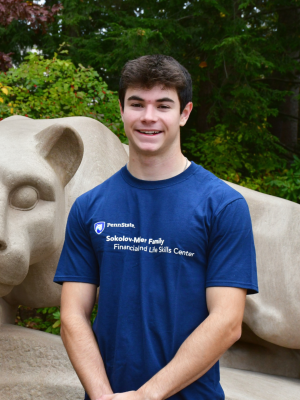 Aidan Miller
Division of Undergraduate Studies, Finance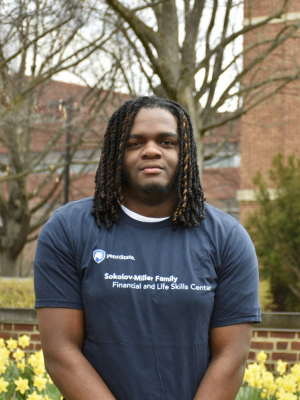 Haron Saunders Prioleau
Division of Undergraduate Studies, Undecided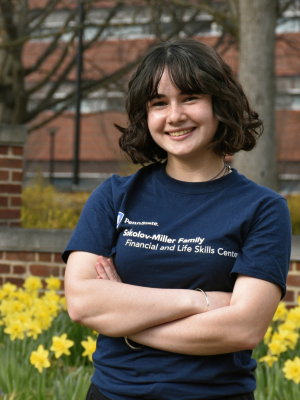 Clarissa Theiss
College of Liberal Arts, Political Science and Criminology, minor in Classic and Ancient Mediterranean Studies (CAMS)